Obituary for Robert Bernard Jagers (Bob) 7-22-1922 to 4-1-2021 (98 years young)
Thank you to all the friends and family who attended the viewing and the Celebration of Life for our Father!
Thank you to everyone who attended the Mililtary ceremony at DFW National Cemetery. 2000 Mountain Creek Pkwy, Dallas, TX 75211-6702
View pictures of the Celebration of Life and Military Ceremony provided by the Patriot Riders Guard they did an excellent job! Bob had a propper send off.
Download the Celebration of Life and Military Ceremony 105Mb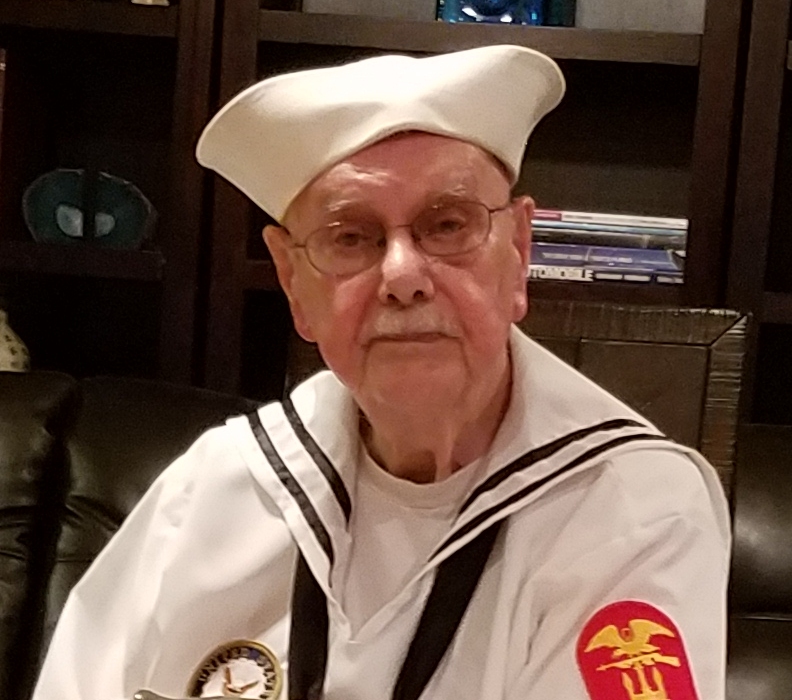 OBITUARY
JAGERS, Robert Bernard (Bob), age 98, of Carrollton, passed away on April 1, 2021 from complications of an infection. He is preceded in death by his wife Rosina (Rose) Dell'Aquila and infant granddaughter Sarah Downs.
Bob was born in Chicago on July 22, 1922 which was the beginning of his fascination of the number 22. His hometown is where he honed his skill of sneaking into Wrigley Field to watch his favorite team play ball…the Chicago Cubs.  He was born to Henry and Mary (Newton) Jagers and lived with them until his father's death in 1934 when his mother moved the family (with younger brother Tom) to Grand Rapids, Michigan. Bob attended Catholic schools, culminating in his pre-war attendance to Aquinas College.
The bombing of Pearl Harbor prompted Bob to join the Navy which held off his enlistment to the summer of 1942 so that he could complete his school semester.  After naval training, as a Signalman 3rd class, Bob boarded LST 351 that took him to England to join the war effort. Bob took place in 4 first-wave invasions; Sicily, Salerno, Anzio, and Normandy. He was awarded the EAME, Purple Heart, American Campaign, American Theatre, and Good Conduct Medals.
Rose (also born on the 22nd in the year 1922) became his wife on June 22, 1946 and they moved to Detroit, Michigan.
He is survived by their three children, Kathleen Downs (Bob), Beverly Foley, and Richard Jagers, two grandchildren, Tim and Jeremy Foley, and several nieces and nephews.
Bob continued his education while working for Wyandotte Chemical, first at the University of Detroit and then graduating with a Masters in Chemical Engineering from Wayne State University.
Bob began working for the Chrysler Corporation as a metallurgist, which he thoroughly enjoyed. He was an enthusiastic Boy Scout leader, church usher, softball player and coach, hockey skater, amateur photographer, sports enthusiast and world traveler.  He was a member of the Society of Automotive Engineers, the American Amphibious Forces Association, the LST-325, Happy Warriors, American Legion – Italy, and the American Society of Metallurgists.  Chrysler enhanced the family's travels by sending them to Mexico and Argentina to live where Bob headed up the company's testing laboratories.  In their lifetime Rose and Bob visited 47 countries, dragging their children to many of them.
In his retirement years, Bob tutored hundreds of school children in Michigan and in Texas, well into his 90's.  He was honored several times as "volunteer of the year."
Bob is the author of  three books and an unfinished manuscript on the anatomy of a D-day.
Visitation at North Dallas Funeral Home, 2710 Valley View Ln., Farmers Branch, on Wednesday, April 7, from 5-8 PM. www.northdallasfuneralhome.com   
Service at Frontiers of Flight Museum, 6911 Lemmon Ave, Dallas, on Thur., April 8, from 4-7 PM.  Seating is limited so we ask to please RSVP to bjfoley at aol.com.  CDC guidelines in effect.

Burial date APRIL 12, 2021, 10 AM, DFW National Cemetery, Dallas.

In lieu of flowers the family asks that charitable contributions be made to the Frontiers of Flight Museum, 6911 Lemmon Ave., Dallas, TX 75209 or, the Daughters of World War II, 5600 Lovers Lane, Ste 116, Dallas, TX 75209, in honor of Robert Jagers.
Silvio Canto Jr. said some nice words about Bob on his radio show all before the show begins. Listen here
Pictures